Description
Full Rolls, Precuts and Kits
As Low as $43.93. Lifetime Warranty on Static Control Properties!
Guaranteed Lowest Price on the Web
NEW: Now RoHS 3 Compliant
Ultimat I ESD Bench Mats are made from a low VOC (no odor) rubber containing a UV protectant (to avoid discoloration from overhead lighting and the sun). The Static Solutions Ultimat I is a PREMIUM mat at a REALISTIC Price. Perfect for static control, it's highly wear resistant, lays flat right out of the box and will never let you down in a critical ESD or ISO audit. Here at United we provide onsite certifications to numerous clients nation-wide. For our Engineers there is nothing worse than failing a client's ESD matting. Ultimat I is always a pleasure to Certify as it Never Fails!
Ultimat I: Features, Benefits and Pricing
Fast COMPLETE Charge Decay.
LIFETIME Warranty on static control performance.
Resistant to a variety chemicals used in manufacturing.
Resistant to heat and solder flux.
Lays FLAT and never curls.
RoHS, CE, ISO ANSI ESD S20.20 COMPLIANT
TR-53 Test Friendly, NEVER fail another ESD Audit!
Multiple Colors: Dark and Light Blue, Green, Black, Gray, & Black
Multiple Widths: 24″, 30″, 48″ (+/- .25)
Multiple Lengths: 36″, 48″, 60″ & 72″. Full Rolls are 40′ Long
Pricing: $44.93 to $944.00.
NEW! Make it an Ultimat I KIT!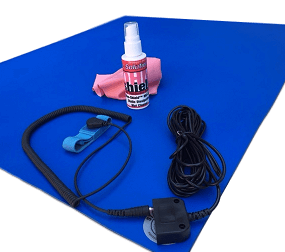 Ultimat I – NOTES:
INCLUDE a HEAVY DUTY dual port common point ground cord, wrist strap, bottle of mat cleaner and even a towel to wipe down Ultimat I for a mere $19.99 up charge!
If you don't see the size you need just let us know! We'll add it to the cart in a jiff!
United Static Control Products
We've supplied ESD Matting worldwide since 1993! Don't take chances – get matting that REALLY works from a reputable supplier with a known track record. When you think ESD Matting Think United SCP!
Links